CLEM BURKE - I've been lucky enough to see Clem play in the Eurythmics tour band plus of course in his main claim to fame, Blondie. The guy is an exceptional drummer.
If you're looking for a brushes and light sticks, then Clem is not the guy for you. His forte is foot to the floor crash bang wallop, but in a listener friendly rhythmical heartbeat delivery.  
The only evidence I need to give you is let your ears drift towards one of the most perfect pop singles of our time, "Dreaming" by Blondie. In fact, you can take virtually any Blondie single as an example. Those songs would not sound just as good with anyone else behind the kit. 
Mr Burke sir, you are simply a legend, and I thank you for many,many air drumming moments over the past 35 years.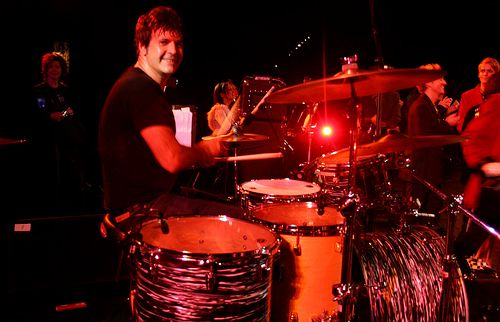 From Wikipedia below...
Clement "Clem" Burke (born November 24, 1955) is an American musician who is the drummer for the band Blondie. Recruited by Chris Stein and Debbie Harry when they were first forming Blondie.  
During the 1980s and 1990s, when Blondie was disbanded, Burke played drums for The Romantics (for whom Burke was the regular drummer[clarification needed] between 1990 and 2004), Pete Townshend, Bob Dylan, Eurythmics, The Tourists, Dramarama, The Fleshtones, Iggy Pop, and Joan Jett, amongst others. He went on to record with the line-up of Chequered Past in 1983 with Sex Pistols guitarist Steve Jones, former Blondie bandmate Nigel Harrison, musician Tony Sales and singer/actor Michael Des Barres.[2][3]
In the late 1980s, he stood in as drummer for The Ramones (under the name "Elvis Ramone") for two gigs, on August 28, 1987, in Providence, Rhode Island, and August 29, 1987, in Trenton, New Jersey, after the sudden departure of Richie Ramone.[4] On October 8, 2004, he once again played under the name "Elvis Ramone", when he joined Tommy Ramone, C. J. Ramone, and Daniel Rey in the "Ramones Beat Down On Cancer" concert. He has recorded and played live with Wanda Jackson and Nancy Sinatra. Burke also played on The Go-Go's member Kathy Valentine's solo release, Light Years in 2005. He was inducted in the Rock and Roll Hall of Fame in 2006.[5]
He now is a member of Slinky Vagabond with Earl Slick, Glen Matlock, and Keanan Duffty. Slinky Vagabond played their debut concert at the Joey Ramone Birthday Bash in May 2007.[5] He is also currently a member of Magic Christian (Dirty Water Records), along with former Flamin' Groovies guitarist Cyril Jordan (on guitar) and Plimsouls lead guitarist Eddie Munoz (on bass).
As of November, 2010, he plays drums with The Hugh Cornwell Band.
In July 2011, it was announced that he is to receive an honorary doctorate from the University of Gloucestershire, due to his drumming project[6] that analyses the physical and psychological effects of drumming.[7]
In April 2013, Burke appeared on the Little Steven song "All I Needed Was You" along with Scott Kempner, Barry Goldberg, Gregg Sutton and Tom Jr Morgan on the Carla Olson album Have Harmony, Will Travel.